Job Shadowing Event Puts Students in the Workplace at Bosch Offices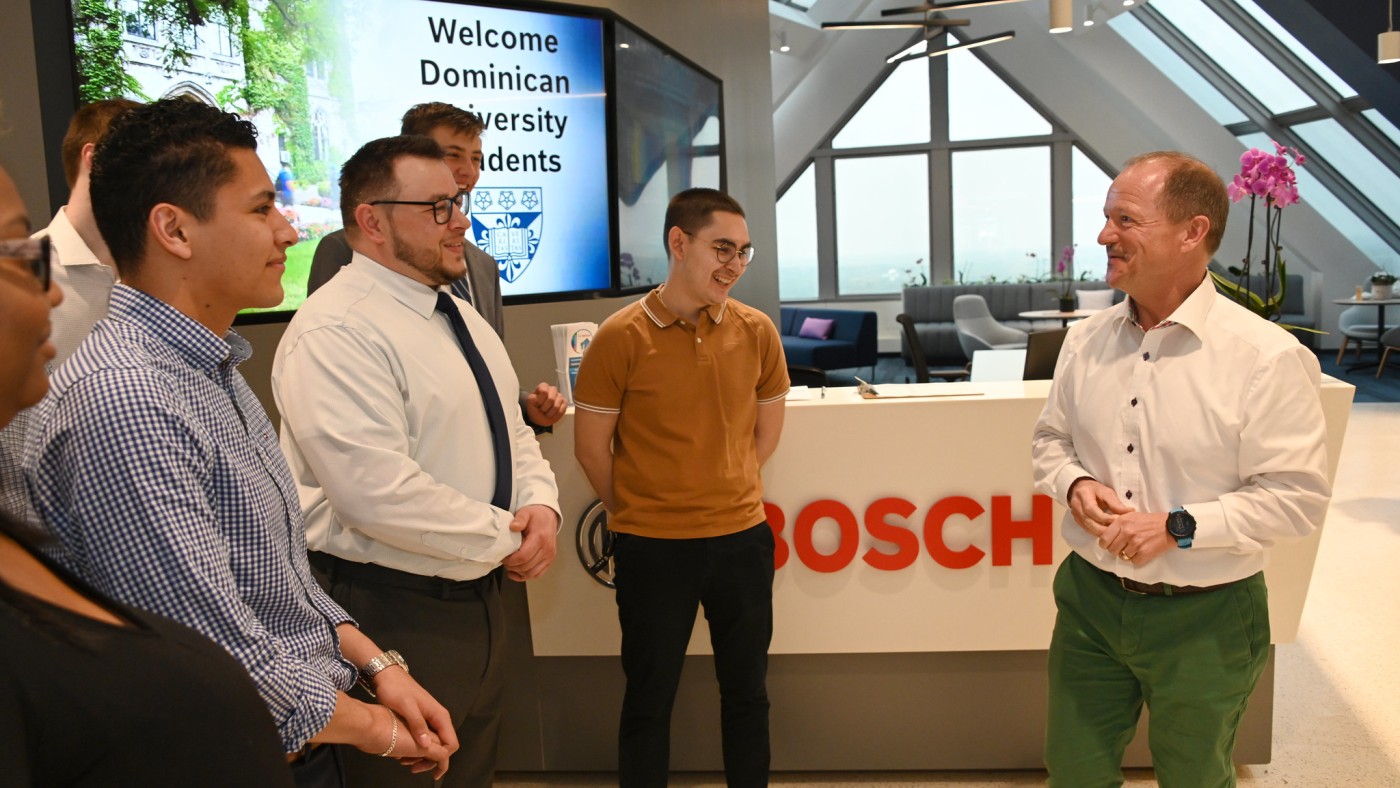 A recent job shadowing event gave a group of students from Dominican University a behind-the-scenes look at automotive and engineering giant Bosch.
Nine students participated in the May 11 event, allowing them to spend time with Bosch employees, learn about their day-to-day tasks, sit in on business calls and hear from Dominican University alumni who were hired as full-time employees of the company following internships there.
The day was organized through the Brennan School of Business, which put out a call for interested students to apply.
"This was really the first back-to-in-person event we had done," said Lisa Malvin, assistant director of career programs and internships with Brennan School of Business. "We want to do a lot more job shadowing, but a lot of employers are not back in person, so it's been hard to coordinate."
With Bosch having relocated to Oakbrook Terrace, the job shadowing day gave students a chance to tour the company's new headquarters at the top of the 31-story Oakbrook Terrace Tower. The participants are majoring in business, marketing, accounting, finance and computer science.
Malvin said she hopes the students were able to effectively network with Bosch employees.
"That's the whole point of this event," she said. "At Brennan's Career Development Program, we talk to the students a lot about networking, job shadowing and how to connect with employers. We want to give them an opportunity to meet with people who are in fields they may want to work in and network with them."
The students were encouraged to maintain connections with the employees they met.
"I want them to learn the value of networking and why that's so important in getting you to the top of the job pile," Malvin said.
Dominican has an ongoing partnership with Bosch, which has provided students with internship opportunities and full-time job placement after graduation. 
"We started a partnership with Dominican University about six years ago, and accepted two students into our co-op internship programs," said Sharon Soriano, Bosch's university relations partner. "We made full-time offers to both students when they graduated."
The university and Bosch have also partnered on career fairs, informational sessions, and mock interviews for students in addition to the job shadowing event.
Job sharing opportunities at other companies have also been made available to Brennan School of Business students. During the last school year, five students interested in the finance industry shadowed employees at JMG Financial Group.
Career development is part of the curriculum within the Brennan School of Business. This includes an internship requirement for undergraduates who must complete at least 80 hours of internship experience prior to graduation.
"It really allows our students to apply what they are learning in the classroom to outside the classroom," Malvin said.