2022 Young Mazzuchelli Award Presented to Author, Mentor and Inclusion Consultant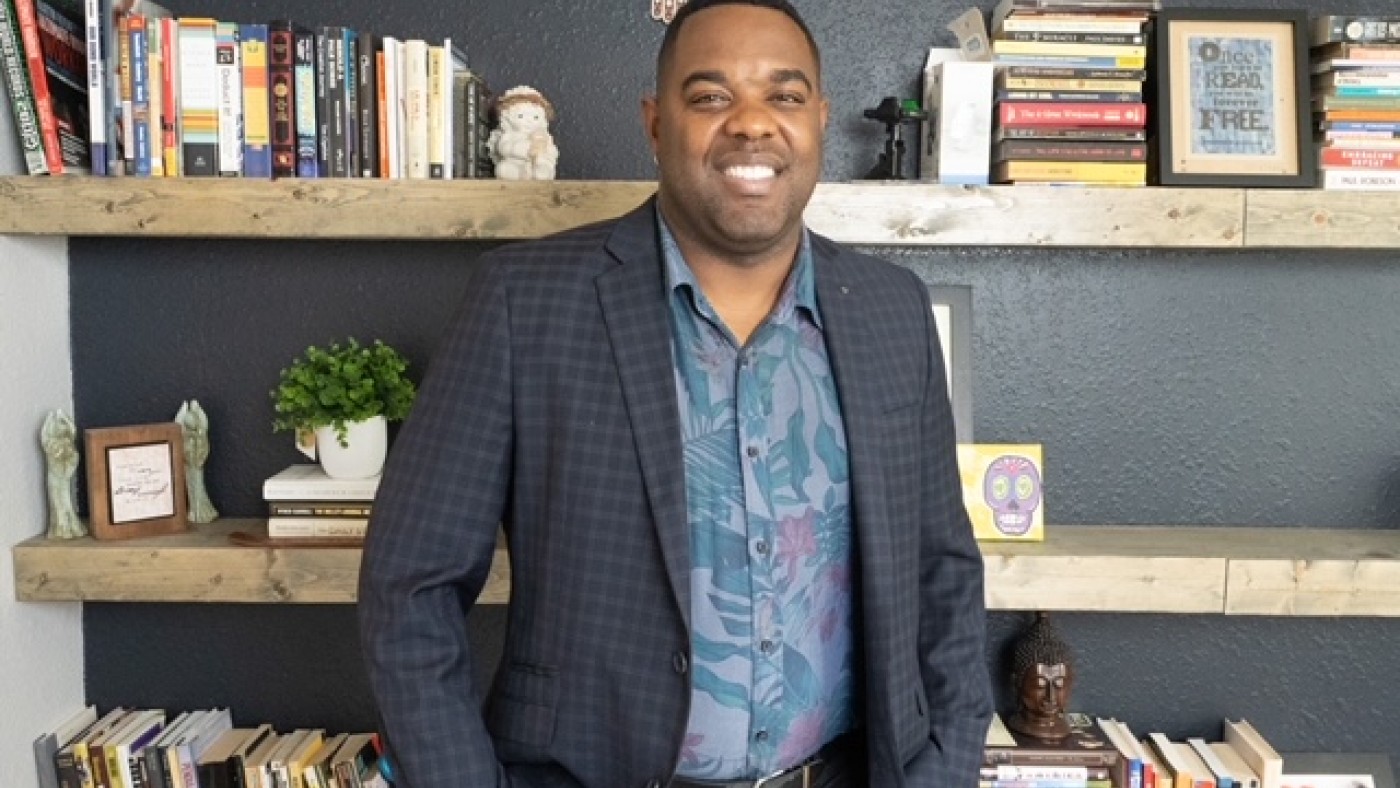 A childhood of challenging circumstances, including poverty and his parents' drug use, ultimately influenced Gilbert Allen's desire to become a social worker.
"I think my upbringing and seeing a lot of parents from my community struggle with drug addiction and kids coming from poverty shaped my mind to really care for people who are going through challenges," Allen said.
An author, mentor and co-owner of a consulting firm focused on equity and inclusion education, Allen is the 2022 recipient of Dominican University's Young Father Mazzuchelli Award. The award, which was presented to Allen during the School of Social Work's Annual Pinning Ceremony on April 30, recognizes alumni who have made contributions to their community and profession through risk-taking, intellect, respect for diverse cultures, a strong sense of purpose and visionary leadership.
"It's a blessing," Allen said of the honor. "I never thought in a million years I would be receiving this award. When I think of going through all the things I went through in my life to get to this point and receive this award, it's just amazing."
Allen's story of persevering despite a challenging childhood formed the narrative of Brotherly Love, a memoir for children authored by Allen and his older brother Michael Allen, a former school principal who works in educational leadership.
The book tells the story of how Michael, then a student at Valparaiso University, took in and raised his 15-year-old brother Gilbert despite his own challenges making ends meet.
"We were struggling—mentally, emotionally, financially, you name it," Gilbert Allen recalled. "We were at a low point in our lives. But we made a pact. We told each other, if we make it through this and achieve our goals, we'll write a book about our story to help other kids who may be going through the same challenges."
It was the start of the pandemic that "lit a fire" under the brothers and got them writing, Allen said. The book was self-published last year and a more detailed version for high school and college students is currently being produced.
"To be completely vulnerable—it was hard at first," Allen said of telling his story. "We wrote a lot about my childhood trauma and to hear it on the audio book or talk about it in front of students was hard. But as time goes on, you get to a point where you understand the circumstances you had to overcome."
And overcome the brothers did. Both men went on to receive advanced degrees in college: Michael Allen received a doctorate in school administration from Loyola University and Gilbert Allen obtained his master's in social work from Dominican in 2017.
It was during his time at Dominican that Allen recalls being introduced to a racially diverse group of professors. Seeing male African American professors in the classroom speaking "words of wisdom" was especially uplifting, he noted.
"At Dominican, I started to understand the concept of empathy," Allen added. "The goal is to try to put yourselves in others' shoes."
His professional career has included work as a mental health counselor, crisis worker and a program supervisor for at-risk youth. He also heads up the Brotherly Love Mentoring Program, which was born out of the publication of the Allens' book and is geared toward at-risk youth and those in need of extra support.
Gilbert and Michael Allen recently started Wholistic Equity Leadership Consulting, LLC, a company that educates schools and businesses about equity inclusion and offering mentorship, workshops, training and speeches.
"I'm living the dream to be able to work with my brother, help different people in my community and provide keynote speeches all around the world," Allen said. "It's a dream come true."