Caritas Veritas Award
The Caritas Veritas Award is presented to an alumna/us whose life reflects Dominican University's motto, Caritas Veritas, a search for truth through charity or service. The award is presented at Reunion.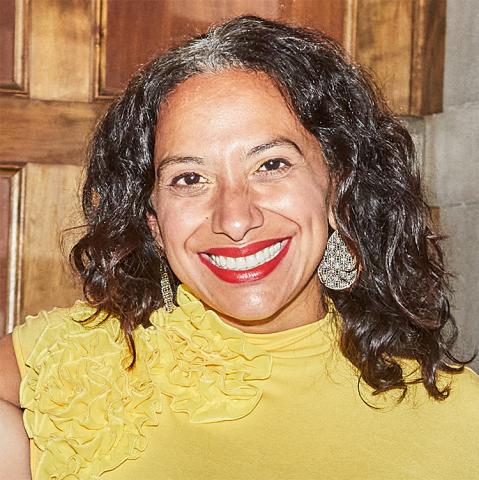 2022 Caritas Veritas Award Recipient: Vanessa Jackson '03
Since her early years in commissioned sales, Vanessa has always had the gift of understanding a client's needs. After 11 years in higher education, Vanessa shifted gears from helping graduates find employment in the creative fields to managing the daily operations and production at The Lemon Ad Stand.
Today, as Vice President of Sweetness she focuses on ensuring all internal operations are streamlined and effective while also providing that same attention to detail to clients' services. In direct alignment with her passion for creative marketing, Vanessa manages all the external marketing initiatives including strategy, e-marketing, social media management, and web updates for the Stand.
Vanessa remains committed to education through her work as the chair of the Alumnae/i Leadership Council at Dominican University, her alma mater. She is an active member of the National Association for Women Business Owners and advocates on behalf of small businesses as an alumnus of the Goldman Sachs 10,000 Small Businesses program. She is married to her college sweetheart, Calvin Jackson '01. Together they manage The Lemon Ad Stand, travel as often as possible, and love on their two daughters.
Previous Recipients of the Caritas Veritas Award
2019: Eileen Willenborg '69
2018: Dianne Mathiowetz '68, Susan Bakel Cohn '68
2017: Jane E. Duggan '67
2016: Judy Purvin Scully '66
2015: Gera-Lind Kolarik '75, Barbara Keaton Spaniak '80, MD
2014: Sr. Kaye Ashe, OP '52, Sr. Joan O'Shea, OP '52
2013: Marie Roach Cowhey '53
2012: Mary V. Whalen '57 
2011: M. Catherine Crowley Ryan '61
2010: Maria Kuhn '75 
2009: Mary Boyle Callow '67, Sr. Melissa Waters, OP '59
2008: Josephine Ann Kane '73 
2007: Catherine E. Klein '57, Margaret M. Stapleton '67 
2006: Norman E. Carroll MSA '83, Sr. Rita Keegan, MM '56, Barbara Parsons '56 
2005: Sr. Ann Willits, OP '55, Mary Lidia Klodnycky-Procyk '65, MD 
2004: Marilyn McNamara Schaub '49 
2003: Patricia Somers Cronin '48, Linda Bieniek '73
2002: Carolyn J. Noonan Parmer '52, Sr. Mary Paynter, OP '52, Richard J. Brennan
2001: Sr. Jeanne Crapo, OP '46, Mary-Alice Wallach Martines '51
2000: Sr. Clemente Davlin, OP '50, Kathleen Anglese Giamalva '60 
1999: Claire Cusack Cronin '49, Anna Marie Garippo Sciaraffa '49 
1998: Mary Thecla "Tekki" Lomnicki '78 
1997: Jean Burke Foran '47, Ann Bauer O'Leary Kerley '47, Sherry S. Treston '72
1996: Rita Leahy Zorn '46, Nancy Sidote Salyers '71 
1995: Mary Spalding Picchi '45, Hilary Ward Schnadt '79 
1994: Sr. Jean Murray, OP '49, Jean Dougherty Quigley '50, Katharine Williams LeVeque '54
1993: Doris Boughton Hullihan '43, Jeanne Pietrus Schmid '53, Suzanne Cosimano Awalt '68 
1992: Mary Schotthoefer Shekleton '42, Carol Kenealy '67
1991: Katherine Fitzgerald LaBelle '26, Sr. Mary Woods, OP '45, Angelika Kuehn '70
1990: Reycita Cruz Jiron '40
1989: Grace Victor Cross '39, Patricia Connery Koko '64
1988: Sr. Miriam Young, OP '63, Therese F. Hogan '78
1987: Sr. Candida Lund, OP '42, Winifred Kuhn Downing '47, Theresa M. Schultz '77
1986: Sr. Lucille Z. Coulihan, IHM '36
1985: Ruth McGrath O'Keefe '35
1984: Mary Yu '79
1983: Mimi Power '58
1982: Jeanne Morrissy Darley '50
To nominate an alumna/us for the Caritas Veritas Award, click the following Nomination form and select "Caritas Veritas Award" in the drop-down menu.
Supplemental materials that cannot be uploaded may be mailed to Office of Alumnae/i Relations, Dominican University, 7900 W. Division Street, River Forest, IL 60305. You can also fax supplemental materials to (708) 366-4197.
Please email the Office of Alumnae/i Relations or call (708) 524-6286 with any questions regarding award nominations.