Accounting Major Becomes Podcast Host Thanks to Schmitt Scholars Program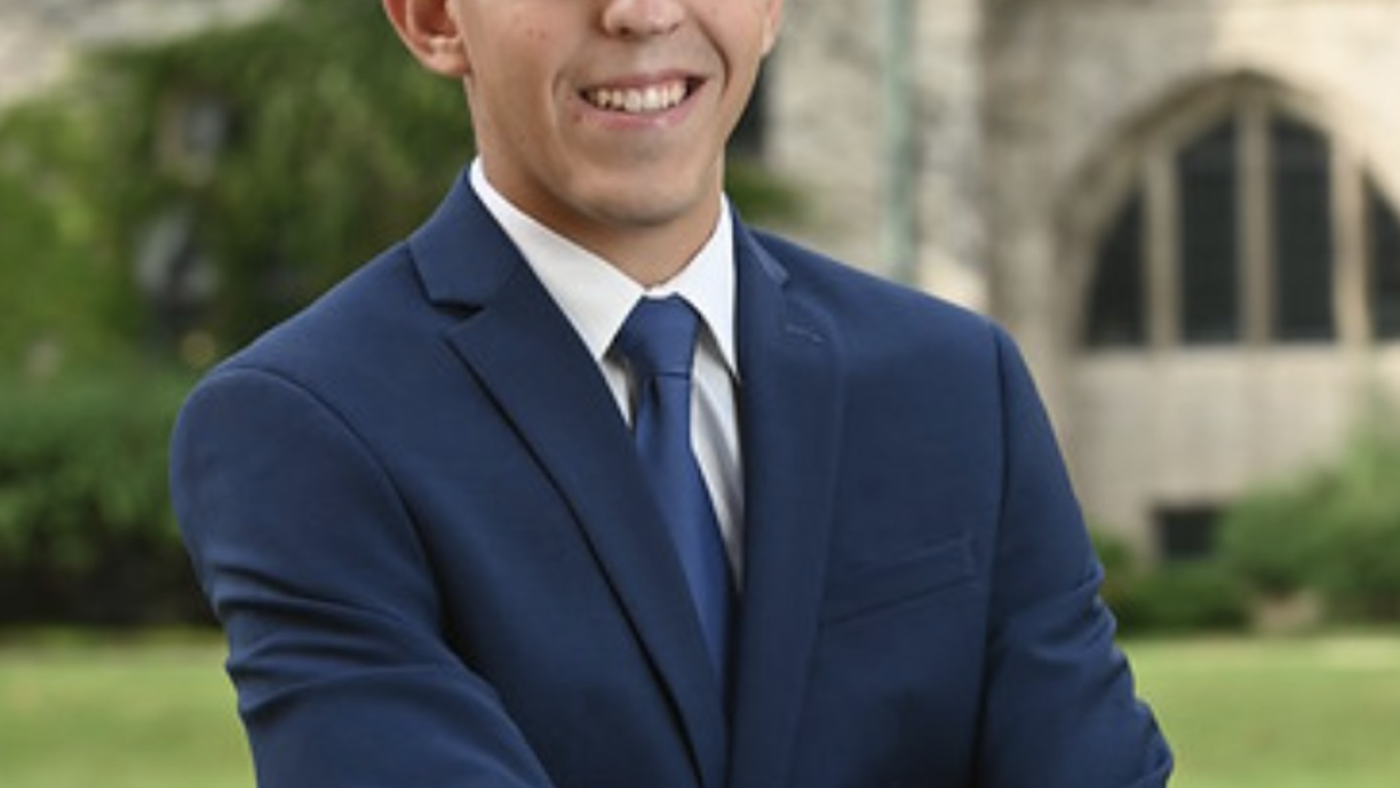 Jovan Selakovic may be looking ahead to a career in accounting, but for now, thanks to an initiative he embarked upon at Dominican University, he's embraced the world of podcasting.
"It's something I see myself doing long-term," the incoming senior remarked. "It's not something that was just a school project."
Selakovic created the Serbian National Defense Council podcast as part of his Schmitt Scholars project during the 2021-22 academic year. Supported by the Schmitt Foundation, the Schmitt Scholars program provides scholarships for students with an aim of encouraging leadership and community-based learning opportunities.
Available to stream on Spotify, Selakovic's podcast addresses topics related to the Serbian-American community and includes interviews with guests. It also promotes the 108-year-old Serbian National Defense Council, a Chicago-based organization aimed at protecting Serbs, the Serbian Orthodox Church, and Serbian interests abroad.
An accounting major, Selakovic initially imagined that his required Schmitt Scholars project would center around business and finance. But, with the program requiring participants to engage in a year-long initiative aimed at social change and community partnerships, Selakovic shifted his focus.
"I realized the project should be something I'm passionate about, and something I'm passionate about is being Serbian," he explained. "The Serbian National Defense Council is about preserving Serbian heritage, culture, values and religion, and since I was already a member of the organization, it was easy for me to talk to people there and get their points of view."
Becoming a fan of podcasts when the pandemic began in 2020, Selakovic decided to launch his own with a goal of discussing issues facing the Serbian diaspora and encouraging a younger generation to join and become active in the Serbian National Defense Council.
Selakovic started out by using equipment available in the WeatherTech Innovation Lab at Dominican's Rebecca Crown Library before creating his own mobile studio at home.
Episodes featured interviews and discussions on topics such as what it means to be Serbian; youth programming within the Serbian Orthodox Church's Midwest Diocese; Australia's ban on allowing Serbian tennis star Novak Djokovic into the country to compete in the 2022 Australian Open; and historical events, among other topics.
"I get to have conversations with people and learn why they love being Serbian as well and what their visions are for the community — not just my own," Selakovic said. "It gives me a chance to open up about my experiences and for them to open up about theirs."
The experience of connecting with his heritage in this way has been a rewarding one, according to Selakovic, whose mother was born in the former Yugoslavia and whose paternal great-grandparents immigrated to the United States in the 1950s to escape communism in their homeland.
"I've heard people say the work I do is good and it matters, but it's not so much the recognition; it's the joy I get out of it," he said. "My grandparents and great-grandparents gave up a lot to come to this country. Holding on to my roots is really important to me."
Selakovic said Dominican's Brennan Career Development Program aided him in his podcast by providing him with the communication, networking and interviewing skills that were required.
"During the past three years that I have taken the Brennan Career Development classes, I think I've become a better professional and I'm able to come into the real world as a businessman," he said.
Selakovic also encourages others to apply for the Schmitt Scholars program at Dominican.
"You can literally do anything you put your mind to," he said. "If you said a year ago that I would be doing a podcast and then continuing it beyond the time frame (of the school project), I would have called you crazy. But the Schmitt Scholars program allows you to chase your dream and work on something you are passionate about."