Nutrition Student Serves Up Vegan Treats at Dominican, Aims to 'Change Palates'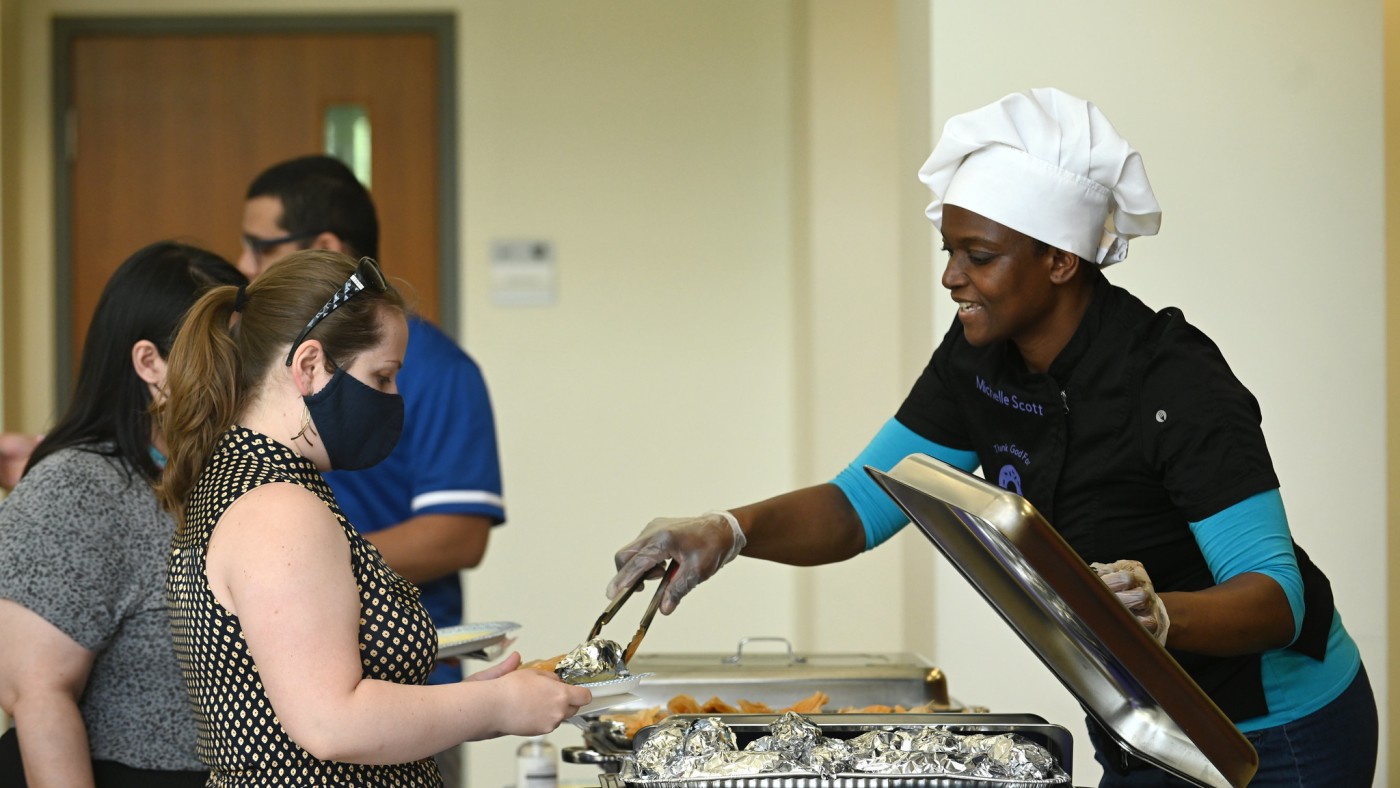 Turning typically meat or dairy-based foods into vegan dishes is a passion of Dominican University nutrition student Michelle Scott.
Scott, who started an online business called Thank God 4 Raw Vegan Treats, recently shared some of her recipes during a grab 'n go lunch in the Parmer nutrition lab hosted by Dominican's Healthy Living Committee.
On the menu were free vegan hot tamales, vegan chickpea tacos and churros.
Many people are unaware that tamales can be made as vegan options, not to mention chicken alfredo (with flavored tofu as a substitute for the chicken), Scott says.
"To eat something you didn't know could become vegan is very surprising," she noted.
Scott turned to a vegan diet in 2016 after years of struggling with Crohn's Disease. Her mother joined her in eating vegan as well.
At the encouragement of her mother, her pastor and others, Scott started her online business in 2019. She also sells some of her treats at the Austin Town Hall City Market, a weekly farmers market.
Currently on the menu are vegan cookies, cupcakes, brownies, cinnamon rolls, cakes and pies.
Scott is taking nutrition and dietetics courses at Dominican in preparation for a master's degree program. The classes have provided her with more than nutritional knowledge, she says, as they have taught her how to advertise, how to manage employees and how to communicate with customers.
"It's not customer first, it's employees first," Scott said. "If my employees are not OK, then my customers are not going to be OK. I've learned in my course work that my employees and their wellbeing and their mental health are important."
One of Scott's goals is to encourage minority communities to embrace vegan foods — not an easy task, she admits, when meat is such a staple in the kitchens of Black households, especially those with roots in the South, like her own.
"I want to change palates," Scott said. "People might think it's too late, but it's not."