Work with Domestic Violence Agency Helps Psychology Majors Raise Awareness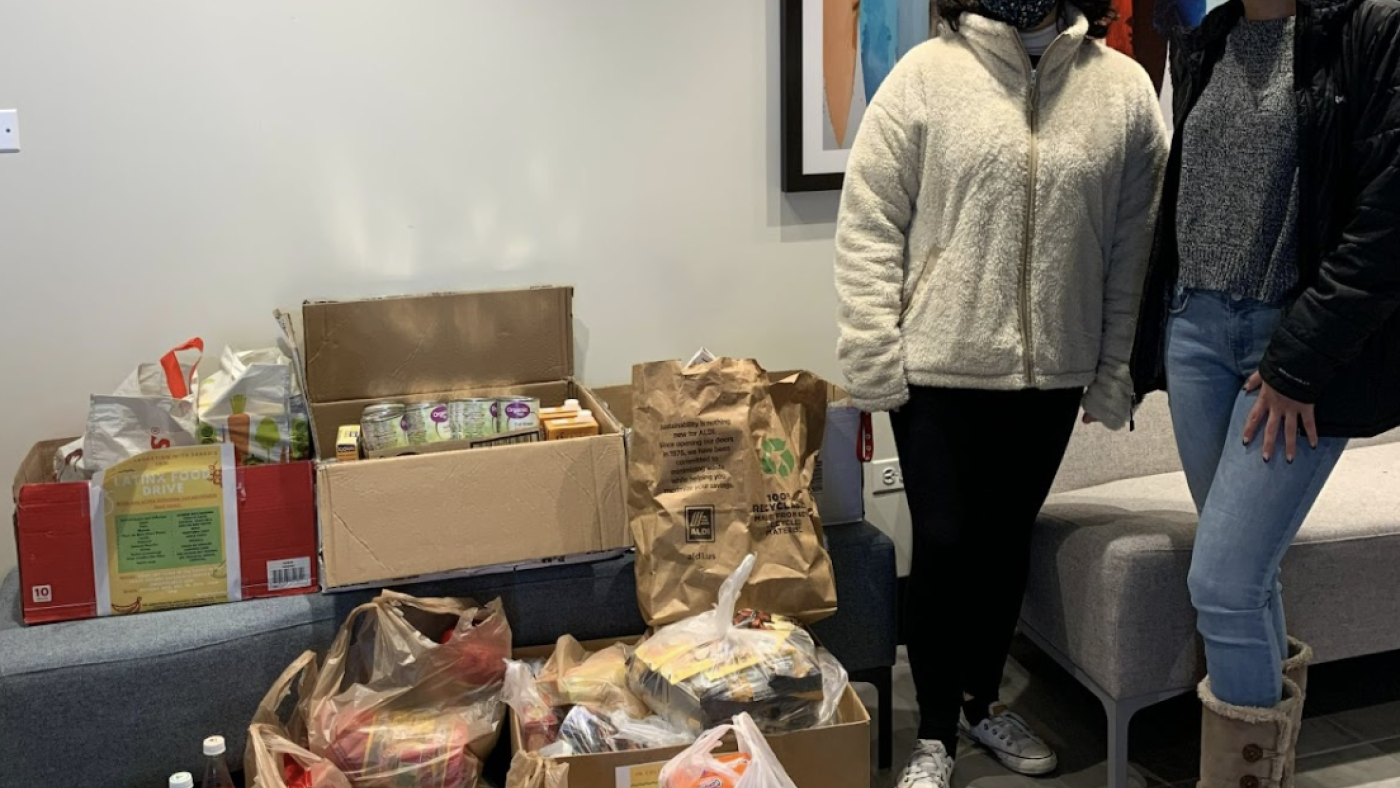 (Photo: As part of their volunteer work with Sarah's Inn, an organization that serves families affected by domestic violence, Gloria Goray, left, and Natalia Prato organized a food drive at Dominican University.)
A desire to help women and raise awareness of domestic violence — particularly within the Latinx community — inspired two Dominican University students to volunteer with a local organization serving families affected by violence.
Gloria Goray and Natalia Prato, both psychology majors and rising seniors, teamed up with west suburban Sarah's Inn for their Schmitt Scholars project during the 2021-22 school year. Schmitt Scholars engage in community-based learning and leadership projects as part of the program.
"Coming from a Latinx background, we knew we wanted to serve that community in some way," Prato said. "That quickly led to thinking about Latinas and the role of women in that culture. We both also had a lot of shared classes (in the fall) semester that talked about the repression of women globally, so we had all these things that were intersecting."
Discussions eventually centered around volunteering for an agency dedicated to domestic violence intervention and support, and Sarah's Inn invited the students to come on board.
"A lot of the Dominican values align with the values of Sarah's Inn," Goray said. "Both are about helping others, and I reflected on that while at Sarah's Inn."
Serving Chicago and 22 surrounding suburbs in western Cook County, Sarah's Inn offers intervention, legal support services and other resources to adults and children impacted by domestic violence. The organization also operates a 24-hour crisis service line and provides domestic violence education, prevention and training.
Last year, 1,200 adults, children and teens received free advocacy and counseling services from Sarah's Inn; nearly 6,300 middle and high school age youth attended educational sessions in violence prevention and cultivating healthy relationships; and 107 perpetrators of violence participated in the Partner Abuse Intervention Program.
"For us, it's not just about providing services to victims," said Mariam Ideis, volunteer coordinator with Sarah's Inn. "We want to break the cycle of violence for future generations."
With the organization, Goray and Prato helped to inventory donated and restock food pantries operated by the organization. Over the last year, Sarah's Inn has received more than 23,000 donated items ranging from food and clothing to toys and school supplies, Ideis said.
The pair also edited a podcast, translated educational workbooks from English to Spanish, hosted a presentation at Dominican University on domestic violence awareness and launched an on-campus food drive in December, collecting 140 nonperishable food items for Sarah's Inn clients.
"We set up the boxes and gave people a week to donate things," Goray said. "I was thinking we wouldn't get that many items. Personally, I was really grateful to see how much people cared about donating."
In particular, the drive collected a number of Hispanic foods for the large Latinx client base that Sarah's Inn serves.
"Dominican is obviously a Hispanic Serving Institution, so a lot of students were donating things they eat at home, which was really cool," Prato said. "It was a way to pay homage to our culture and also serve Sarah's Inn clients."
The domestic violence awareness presentation that the pair hosted on campus focused on identifying signs of abuse,  strategies for speaking to a loved one in distress and providing resources for help.
"It was nice to feel that there was some sort of action being taken and that the work we were doing for Sarah's Inn was not just a short-term thing," Prato said. "We were spreading resources. We gave out business cards and information that others could share with anyone who needed it."
Ideis praised the students for their go-getter attitudes as volunteers.
"They had this thirst for knowledge and were interested in the work we were doing," she noted.
As psychology majors, the pair are "emotionally invested" in the topic of domestic violence awareness and intervention, Prato said. Their volunteerism further cemented their interest in working with survivors of domestic violence within their future careers, they say.
"I think volunteering with Sarah's Inn and seeing the reality of the clients they work with, in combination with the coursework I had this year — which focused on the oppression of women locally and globally — really confirmed that I want to be working with victims of domestic and sexual violence," Prato said.
"I remember reading articles from Mexico about women suffering from domestic violence and not a lot being done about it," Goray added. "That hits close to home because it's happening in my culture. I want to do something to address it."